ProstatePillTruth.com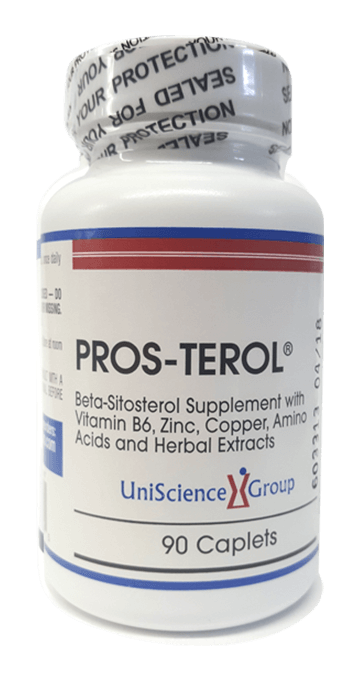 Pros-Terol

Great
Notorious for effective prostate treatment
Lists Sterol Count
No Unnecessary ingredients
Affordable Price
Avoids useless fatty acids
*Results may vary on individual.
Coming in at Number 4, Pros-Terol is an all-natural prostate supplement made by the Uniscience Group. This Florida based company has really set its focus on ingredients that matter, specifically sterols. The website and product consistently claim to boast a whopping 900mg of mixed plant sterols, as well as several other ingredients. While our lab tests showed a score of 361mg of Beta-sitosterol and 756mg of overall total sterols, the results are still very impressive.
Reg Price: 124.99 Lowest Price: $39.95
What ingredients does Pros-Terol use?
One thing that you don't see with many other prostate supplements is its list of its total sterols, and even Beta-Sitosterol. The Supplement facts alone can tell you that the Uniscience Group spent time and energy making sure the Pros-Terol formula was held up to a high standard. They even specifically state in the ingredient breakdown that each bottle will have close to 900mg of mixed sterols and 412mg of Beta-Sitosterol. With many other supplement manufacturers, you might be lucky if you see a vague number of how many sterols might be in each bottle, but with Pros-Terol you have a confident listing of sterol count, beta-sitosterol count, and of each high-quality ingredient that goes into the formula. This may be rare in the herbal supplement industry, but it is quite refreshing to see a company confident in their formula.
Additionally, Pros-Terol includes a number of other ingredients that have been shown to support prostate health such as Pumpkin Seed Extract, Stinging Nettle Root, and even Quercetin. Even more importantly, though, is their lack unnecessary added ingredients. They have wisely decided to leave out un-needed fatty acid fillers like saw Palmetto. While many companies will try and claim that saw palmetto is the "gold standard" for prostate health, in reality, there couldn't be anything farther from the truth. This old wives' tale has been told to consumers for so long that people pretty much take it as fact at this point. The truth is, saw palmetto is useless. It's nothing more than a cheap filler ingredient. The people over at the Uniscience group obviously realized this and focused their formula around their mixed sterol blend. These well picked ingredients, listed in detail on the supplement facts, speaks wonders on their own.
Final Thoughts on Pros-Terol
Overall, it seems that the people over at the Uniscience Group have focused their efforts in all the right places when it comes to the Pros-Terol formula. Their lab scores were very high, and they even went above and beyond to ensure a certain level of sterols in their formula, something you rarely see done. Pros-Terol seems to be a great value for a powerful product, and the makers have focused their high-grade ingredients in the right places.
What do 381,000 free subscribers know that you don't?
Join the fast-growing number of men who trust our free e-newsletter for the latest medical and dietary research on prostate issues to help you take control of your health.
Get The Truth
Sign up for our FREE newsletter