ProstatePillTruth.com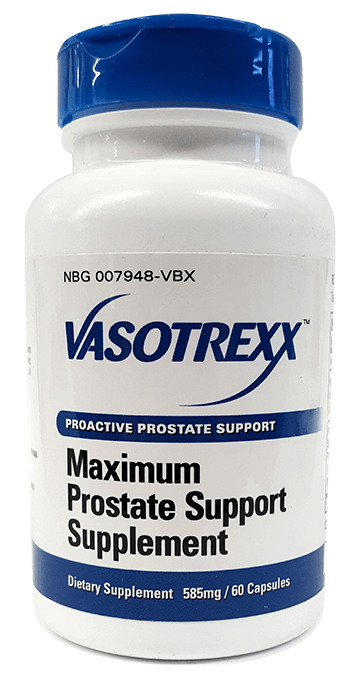 Vasotrexx

Great
Our #2 Top Rated Prostate Pill
Healthy Urinary Function
Essential Vitamins and Antioxidants
Better Night's Sleep
Enhance Sexual Performance
*Results may vary on individual.
Vasotrexx is our choice for the number 2 spot in our list of best prostate supplements. Brought to us from Dartford Kent Nutraceuticals, this product is packed with key ingredients to help shrink an enlarged prostate and reduce prostate discomfort. It contains generous amounts of Beta-Sitosterol and overall sterols, and was able to land itself with a quite remarkable score of 356mg Beta-Sitosterol and 796mg total sterols. While the laboratory scores did not quite reach the high marks that Prostagenix scored, it's Beta-sitosterol and overall sterols levels are still outstanding.
Reg Price: 79.99 Lowest Price: $28.42 - $49
How Does Vasotrexx Work?
The makers over at Dartford Kent Nutraceuticals state that Vasotrexx contains a unique proprietary blend of herbal ingredients which include Beta-sitosterol, Green Tea Extract, Stinging Nettles Extract, and Pumpkin Seed Extract. This herbal blend is designed to help treat symptoms related to chronic prostatitis and benign prostatic hypertrophy. Simply put, it is meant to help reduce prostate discomfort, reduce frequency of urination, and promote prostate health safely.
So, Does Vasotrexx Provide What You Need?
Unlike most other store brand Prostate supplements, Vasotrexx seems to focus on the ingredients that matter. While it does contain some basic vitamins like D3, B-6, and Zinc, it also has very generous amounts of the important stuff like Beta-sitosterol and Green Tea Extract. In fact, it seems that Dartford Kent Nutraceuticals even went the extra step to ensure they were adding quality ingredients, which is shown in the high levels of beta-sitosterol as well as their inclusion of "caffeine free" green tea extract. This "caffeine free" green tea extract is a detail most companies ignore when adding green tea to their product, even though it is commonly known that you want to avoid caffeine to maintain a healthy prostate. Most companies usually cheap out on high-grade ingredients and use whatever they can get their hands on. However, with Vasotrexx, they have gone the extra mile and found specific ingredients to fit their formula and to improve it.
In addition to the high-grade sterols and green tea extract included in the proprietary blend within Vasotrexx, there is also a rather smart inclusion of Stinging Nettle and Pumpkin seed extract. Both ingredients are great promoters of prostate health, although ideally it would be best to see Pumpkin seed extract in oil form, but it is still a good inclusion nonetheless.
Final Takeaways from Vasotrexx
With such an impressive core set of ingredients included in the Vasotrexx formula, it seems that Dartford Kent Nutraceuticals has truly developed a high-end all-natural prostate supplement. Although Vasotrexx is on the pricy side compared to other prostate supplements on the market, it certainly is reflected in their laboratory scores and list of high-grade ingredients. If you are experiencing any sort of prostate issues, Vasotrexx would be a safe bet to start back on the road to promoting a healthy prostate again.

What do 381,000 free subscribers know that you don't?
Join the fast-growing number of men who trust our free e-newsletter for the latest medical and dietary research on prostate issues to help you take control of your health.
Get The Truth
Sign up for our FREE newsletter